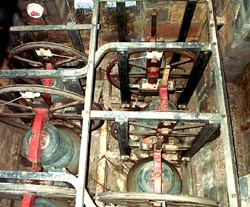 The peal of six bells was given by Augustus Leveson Vernon, High Sheriff of Staffordshire, in 1899.
The bells were last re-cast in 1976 by theJohn Taylor foundry in Loughborough
The bells are in regular use and can also be "played" without being swung using a system of ropes and pulley with hammers attached. Being limited to just 6 notes requires some tunes to be creatively re-arranged.

The data in black on the right is taken from a chart hanging in the bell ringing chamber.
Metric conversions are to the nearest whole unit.
BELL
Weight
Diameter
NOTE
I
3 cwt, 2 quarters,8 lbs
181 kg
25 inches
64 cm
F #
II
4 cwt, 1 quarter,15 lbs
222 kg
27 inches
69 cm
E
III
5 cwt, 1 quarter,3 lbs
268 kg
29 inches
74 cm
D
IV
5 cwt, 1 quarter,10 lbs
271 kg
30 inches
76 cm
C #
V
6 cwt, 3 quarters,24 lbs
354 kg
33 inches
84 cm
B
VI
9 cwt, 0 quarters,0 lbs
457 kg
37 inches
94 cm
A